Relatives
Actinidia arguta (Siebold & Zucc.) Planch. ex Miq. - Actinidia arguta.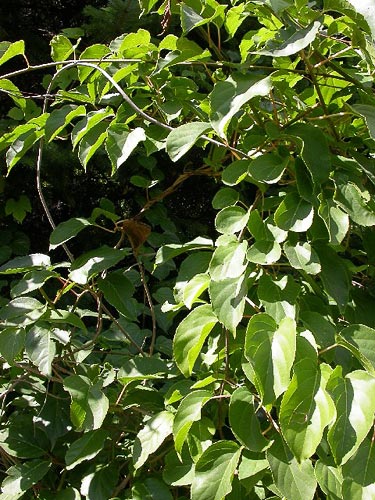 Object map
Systematic position.
Family Actinidiaceae Hutch. Genera Actinidia Lindl.
Synonyms.
Sharp actinidia, large actinidia, large kishmish
Biology and morphology.
Liana. Height is up 6 to 15 m and more (to 25 m), 10-15 sm in diameter. Bark of branches is biscuit with gray bloom or brownish-gray, bark of old specimens exfoliate as long tape. Young bines have warm grey bloom and numerous elongated white lenticels. Leaf is 6-15 sm length, 3-10 sm width, alternate, entire-kind, petioled. Leafstallk is dark-red, a bit downy. Leaf shape is - elongated-oval with greatly long pointed apex, leaf base is broadly wedge (more often), cordate (rarely), edge of leaf is bristly toothed, leaf color is dark-green, lighter from below, close, skinny with shining surface, there is not mixed character of leaf color. Diecious plant. Cross-polinated, entomophilous. Flower is white, middle size (up 2 sm in diameter), aromatic, with black anther; inflorescence of female and male plants is corymb with 1-3 flowers. Fruit is nude, smooth, spherical, elongated, ellipsoidal, rounded, oval, obtuse or with bill, dark-green, sulphur or chlorine, bell of flower isn't kept. Fruit is 1,2-3 sm lenght, 1,2-2,7 sm width. Mass is 2-12 g. Flesh of fruit is sweet, juicy, aromatic, slightly fibrillar. Fruit consist 130-250 seeds. Mass of 1000 seeds is 1,2 g. Blossoming - end of June - end of July, ripening - end of September - end of October. Period of vegetation - 175-190 days. Multiplication - by seeds, by layering, be cutting.Chromosomal number 2n=116.
Distribution.
Far East : south of Primorsky district, south-west island Sakhalin, south Kuril islands (Kunashir); Japan, Korea, north-east China (Manchuria).This species occurs sporadical by small groups (5-10 plants) often.
Ecology.
Species occurs on rocky soils, grows on mountain slopes to 600-800 m, generally on north slopes, goes down to coast line (down border - up 150 to 300 m). It grows near rock, stone field, along banks of small montan sources and streams, in mixed coniferous-broad-leaved forests and coniferous forests.
Economic value.
Ornamental. Food. Vitaminous (jam, confiture compote, vine). Wood and bark are using for production paper (in Japan). Branches are using for manufacture rope, line, furniture, pottle, tackle. This plant is interesting for selection as high-yield and macrocarpous species, yield of a liana is about 25-50 kg in taiga.
Related references:
Berestova G.N. Wild populations of actinidia and magnolia-vine in Primorsky district // Bul. of applied bot., gen. and sel., V. 42, fasc.2, p.298-304. L., 1970.
Vorobiev D.P. Review of Far East species of genera Actinidia Lindley // Bul. of Gornotaiegny station of Far East Branch of The Academy of Sciences of USSR, Chabarovsk, 1939, V.III, p.5-38.
Woods and shrubs of USSR. M: Mysl, 1966. - 637 p.
Woods and shrubs of USSR. M.-L.: Publ. of The Academy of Sciences of USSR, 1958. - V.IV.- 975 p.
Wild woods and shrubs of Far Earst. L.: Nauka, 1968. - 277 p.
Ermakov B.S. Forest plants in your garden. M.: Ecologia,1992.
Kolbasina E.I. Actinidia and magnolia-vine in Russia (biology, introduction, selection). M., 2000. - 264 p.
Osipova N.V. Lianas. M., 1989.
Plechanova M.N. Actinidia, magnolia-vine, honeysuckle. L.: Agropromisdat, 1990. - 87 p.
Titljanov A.A. Some problems of Actinidia investigation in Soviet Prymorie // Bul. of V.L. Komarov Botanic Institute of The Academy of Sciences of USSR. Ser. VI, fasc.7, p.149-151. L, 1959.
Flora USSR. M.-L.: Publ. of The Academy of Sciences of USSR, 1949. - V.XV.
Jakovlev-Sibirjak I.I. Actinidia. M.: Selchozgiz, 1952. - 40 p.
© Funtova V.G.
© Poto: Chukhina I.G.