Relatives
Lonicera edulis Turcz. ex Freyn - Edible honeysuckle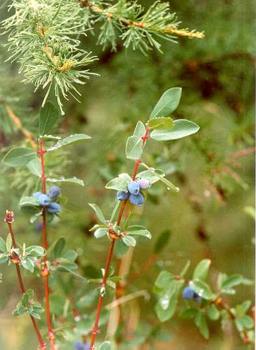 Object map
Taxonomic position.
Family Caprifoliaceae Juss. genus Lonicera L.
Synonyms.
L. caerulea subsp. edulis (Turcz. ex Freyn) Hult., Metalonicera edulis (Turcz. ex Freyn) M.Wang & A.G.Gu
Morphology and biology.
Deciduous shrub, up to 2 m tall. Old branches have dirty brown, often exfoliating bark. Young shoots, like leaf stalks, are covered with dense, delicate down and long, squarrose hairs. Leaves are oblong-elliptical, linear-lanceolate, sharp at the top, 2-7 cm in length, 0.5-2 cm in width, covered with scattered, long, appressed hairs, shorter and horizontally deviated along the veins. Peduncles are drooping, with thin, squarrose hairs. Corollas are tubular funnel-shaped, yellow, downy on the outside. Stamens are longer than the corolla. Compound fruit are prolately oblong, 7-15 mm in length, dark blue with glaucous bloom, edible, sweet. Blossoms in the end of May; berries ripen in late June and early July. Entomophilous. 2n=18.
Distribution.
Occurs in Dauria, the basin of the upper tributaries of the Amur (Onon, Ingodda, Shilka and Argun rivers), and upstream Zeya. The distribution area is limited by the Stanovoi Range in the north, Malkhansky and Yablonevyi Ranges in the west, and the Turanian Range in the east.
Ecology.
Mesophyte. Shade-tolerant. Occurs on foothills and in the middle mountain zone. Occurs as single plants or small groups of plants in the undergrowth of larch, spruce and mixed forests. Tends to inhabit damp ecotypes and rich soils in river and brook valleys and along swamp edges.
Utilization and economic value.
For food, either fresh or processed (kissels, juices and jams). Despite the sweet taste of its berries and their early-ripening habit, this species has not yet been used for variety breeding because diploid species cannot be combined with tetraploid honeysuckle. A natural food pigment of red color extracted from its fruit showed good results in trials and proved promising for the confectionary industry. Ornamental plant. Medicinal usage (in folk medicine).
References:
Brezhnev D.D., Korovina O.N. 1981. Wild relatives of cultivated plants in the flora of the USSR. Leningrad: Kolos, 375 pp. (in Russian).
Plant resources of the USSR: Flowering plants, their chemical composition and utilization; Caprifoliaceae - Plantaginaceae families. 1990. Leningrad: Nauka, p.7. (in Russian).
Plekhanova M.N. 1998. Blue honeysuckle in garden and nursery. Leningrad: Vavilov Institute of Plant Industry, 66 p. (in Russian).
Plekhanova M.N., Solovyeva L.V., Mochalova O.V. 1992. Chromosome numbers and distribution area of Lonicera subsect. Caeruleae (Caprifoliaceae). Botanical Journal, vol.7, n.9, pp. 1-11. (in Russian).
© I.G. Chukhina