Relatives
Trifolium diffusum Ehrh. - Diffuse Clover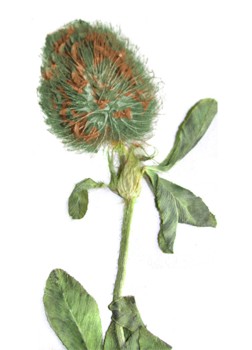 Object map
Taxonomic position.
Family Leguminosae Endl., genus Trifolium L., sect. Trifolium L.
Biology and morphology.
Annual herb; stems are hairy, 20 to 60 cm tall, few, to many, ascending or erect and branching. Stipules are oblong, lance-shaped, membranous, green-nerved, united for over half their length, the free part lance-shaped to awl-shaped, green, hairy. Leaves: the lower about twice the length of the leaflets, the upper about the same length as the leaflets. Leaflets are 2 to 3 cm long, 0.8 to 1.5 cm wide, those of the lower leaves obovate, those of the upper ones broadly elliptical to oblong and narrowed at the base, hairy, finely toothed in the upper part. Heads up to 3 cm across, round, solitary, terminal, borne on short stalks or without stalks, elongating in fruit and becoming ovate. Flowers are 7 to 9 mm long. Calyx tubular to bell-shaped, the tube ten-veined, long hairy, the throat open with a ring of hairs, the teeth awl-shaped, 2 or 3 times as long as the tube, spiny with triangular, 3-nerved base, the tip blunt, lower one slightly longer than the others. Corolla about the same length as the calyx, purplish-pink, the standard ovate, somewhat eared at the base, the wings pointed. Pods are membrane-like with a leathery terminal lid, 1- to 2-seeded. Flowering period occurs during June-August. Plant is self-pollinated, autogamous. 2n = 16.
Distribution.
Species grows throughout the Caucasus, south of Ukraine and Moldova; Crimea.
Ecology.
Species grows in forests and forest clearings, meadows; mainly on sandy soils.
Utilization and economic value.
It is a very valuable forage plant in southern regions. Plant is characterized by high adaptability to poor soils, high yield and seed productivity, high nutritive value. Good palatability by animals in spite of the hairiness.
Reference citations:
Brezhnev D.D., Korovina O.N. 1980. Wild relatives of the cultivated plants of flora of the USSR. Leningrad: Kolos. 376 pp. (In Russian)
Galushko, A.I. 1980. Flora of Northern Caucasus. A field guide. V. 2. Rostov-na- Donu. 350 pp. (In Russian)
Grossheim, A.A. 1952. Genus Trifolium. Flora of the Caucasus. V. 5. Moscow-Leningrad: AN USSR. 194-221 p. (In Russian)
Kolakovskiy, A.L. 1958. Flora of Abhasiya. V. 3. Tbilisi. 292 pp. (In Russian)
Phyodorov, A.A., ed. 1987. Flora of the European part of the USSR. V. 6. 254 pp. (In Russian)
Schishkin, V.K. & E.G. Bobrov, ed. 1945. Flora of the USSR. V. 11. Moscow-Leningrad: AN USSR. 129-176 p. (In Russian)
© Dzyubenko N. I., Dzyubenko E. A.