Relatives
Trifolium fragiferum L. - Strawberry clover.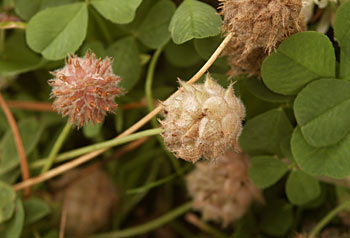 Object map
Taxonomic position.
Family Leguminosae Endl., genus Trifolium L., sect. Trifolium ex D. E. Coombe.
Biology and morphology.
Perennial herb. Stems prostrate and stoloniferous, 5 to 50 cm long with erect petioles and floral stalks, stems hairy or smooth. Leaves trifoliate, 2 to 20 cm long, congested or loose, with long hairy or hairless stalks. Leaflet 0.5 to 3 cm long, 0.3 to 1.5 cm wide, obovate to elliptical, occasionally round, blunt, often indented at the tip, finely toothed, hairless or hairy along the veins and margins. Stipules reach 2 cm long, lance-shaped, dilated and white papery towards the base and with a sharp pointed free portion. Inflorescences globular and compact, 10-12 mm in diameter, with pink or purplish red florets and when ripe, become reddish and resemble strawberry fruits. The blooms appear earlier than those of white clover. There may be 35 to 60 florets per head. Only one seed forms in a floret. As the seeds mature, the head takes on the appearance of a balloon. The flowers are extremely attractive to bees for both nectar and pollen. After pollination in summer by bumble bees and honey bees, the pubescent fruiting calyces contain 1-2 seeds each. Seeds are heart-shaped and colored light brown with dark brown flecks. Cross fertilized. 2n = 16.
Distribution.
Moderately distributed in mild, temperate areas, e.g. S. and C. Europe, W. Asia, all Mediterranean countries; European part of the former USSR, Crimea, Caucasus, Siberia, Kazakhstan, Asia Minor.
Ecology.
Species grows in grassy and muddy areas, and sometimes salty places. It is adapted to poorly drained soils with high water tables even though plants become shallow-rooted; also suited to wet saline or alkaline soils.
Utilization and economic value.
N-fixing, protein-rich species particularly adapted to waterlogged and/or saline soils, and to heavy irrigation. Species is suitable for hay and silage. It is tolerant to close continuous grazing on account of its stoloniferous growth habit. Has cool-season growth in mild temperate areas. It is intolerant of shady areas. Moderate drought tolerance that is better than white clover. It is tolerant of flooding.
Reference citations:
Brezhnev D.D., Korovina O.N. 1980. Wild relatives of the cultivated plants of flora of the USSR. Leningrad: Kolos. 376 pp. (In Russian)
Galushko, A.I. 1980. Flora of Northern Caucasus. A field guide. V. 2. Rostov-na-Donu. 350 pp. (In Russian)
Grossheim, A.A. 1952. Genus Trifolium. Flora of the Caucasus. V. 5. Moscow-Leningrad: AN USSR. 191-221 p. (In Russian)
Hulten E., Fries M. 1986. Atlas of North European Vascular Plants, North of the Tropic of Cancer. Konigstein. V. 1-3: 1172.
Malyshev, L.I. & G.A. Peshkova, ed. 1979. Flora of Central Siberia. V. 2. Novosibirsk: Nauka. 1046 pp. (In Russian)
Mosel H. 1965. Comparative Chorology of the Flora of Central Europe. Jena. 583 p.
Mukhina, N.A. & A.K. Stankevich, ed. 1993. Flora of cultivated plants. V. XIII. Trifolium, Lotus. Moscow: Kolos. 334 pp. (In Russian)
Nikitin V.V., Geldikhanov A.M. 1988. Plants of Turkmenistan. A field guide. Leningrad: Nauka. 680 pp. (In Russian)
Ovchinnikov, P.N., ed. 1978. Flora of Tadzhikistan. V. 5. Leningrad: Nauka. 678 pp. (In Russian)
Pavlov, N.B., ed. 1961. Flora of Kazakhstan. V. 5. Alma-Ata: AN KazSSR. 515 pp. (In Russian)
Phyodorov, A.A., ed. 1987. Flora of the European part of the USSR. V. VI. 254 pp. (In Russian)
Polozhiy, A.B. & L.I. Malyshev, ed. 1994. Flora of Siberia. V. 9. Novosibirsk: Nauka. 280 pp. (In Russian)
Shishkin, V.K. & E.G. Bobrov, ed. 1945. Flora of the USSR. V. 11. Moscow-Leningrad: AN USSR. 430 pp. (In Russian)
Vvedenskiy A.I., ed. 1981. Plants of Asia Minor. A field guide. V. 6. Tashkent: Fan. 394 pp. (In Russian)
© Dzyubenko N.I., Dzyubenko E.A.